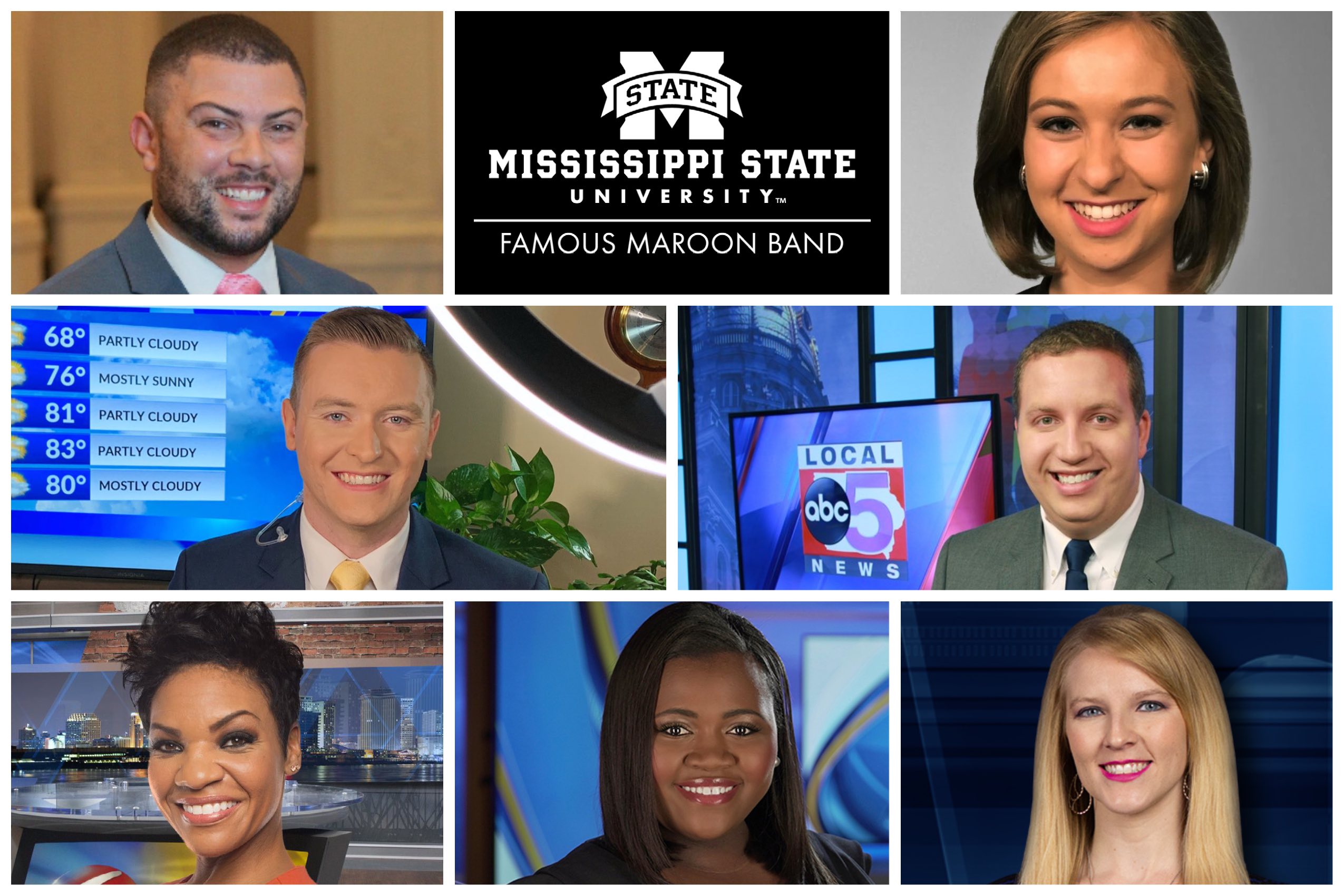 The Department of Geosciences at Mississippi State has long been known for its outstanding meteorology program, with graduates holding sought-after positions all over the country.  In recent years, several former FMB members have been making an impact as accomplished TV meteorologists around the country.
Patrick Ellis currently works for WLBT in Jackson, but also worked for several years in North Carolina before returning to the Magnolia state.  Ellis is a native of Alabama, and while in the FMB, he played baritone in the marching band and euphonium in the concert band.
Christana Kay is a recent graduate of MSU and can currently be seen on WAPT in Jackson.  She played clarinet in the concert band and was one of the captains of our colorguard. While in school, Christana was a 2017 Associated Press recipient for Best Collegiate Weathercast.
Jacob Lanier was head drum major of the FMB and now works at WJTV in Jackson as the weekday morning meteorologist.  In addition to his drum major duties, he also played clarinet in our concert band program.  Jacob recently earned the Certified Broadcast Meteorologist designation from the American Meteorological Society.
After working in markets in Mississippi and Louisiana, Brandon Lawrence made a move to the Midwest in 2017 and now works for WOI in Des Moines, Iowa. A former bass horn player in the FMB, Brandon says he's enjoyed meeting people in the Midwest.
Kweilyn Murphy worked as a graduate assistant for the FMB while earning her Certificate in Meteorology. After finishing at MSU, she worked in Pennsylvania and North Carolina before accepting her current position at WDSU in New Orleans. She didn't play an instrument, but that didn't keep her from becoming part of our family.
Recent MSU graduate Scottlin Williams is a meteorologist for WJTV in Jackson, where she is the weekend morning and weekday noon personality for 12 News. A native of Alabama, Scottlin was a member of the FMB colorguard while a student at MSU.
Whitney Williams is another MSU graduate who made a move to the Midwest after graduation (in her case, back home), where she currently works as a meteorologist for WGEM in Quincy, Illinois.  Whitney played flute in the FMB. Like many in the field, she knew for a long time that this is what she wanted to do.
We are proud of all of these MSU graduates and former FMB members.  They make us all proud.  Hail State!